COVID-19 testing (reported to the CDC) data plotted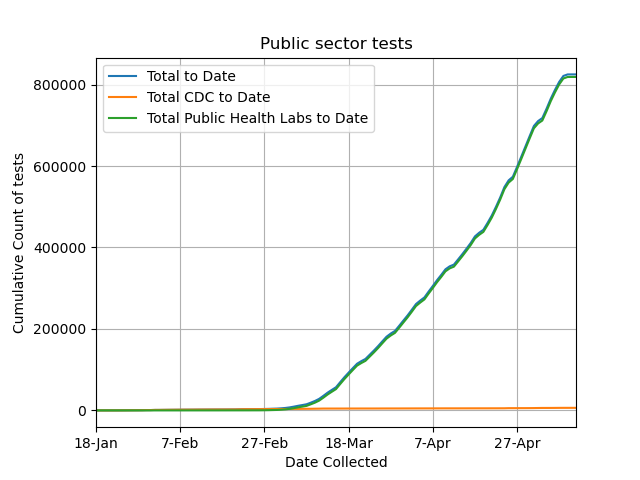 Total tests to date are 200984. The testing data tapers off for the last four days reported, because reporting is not complete for those days (as explained on the CDC testing date website). In fact, all days have been updated but by much smaller amounts.
333227 Coronavirus Cases in the United States are reported by worldometers.info.
Based on these numbers the current testing 'hit' rate is 333227 divided by 200984 gives 165.8% as a testing 'hit' rate.


304826 "confirmed and presumptive positive" are reported at the CDC Cases in U.S. page.
This gives us a CDC data 'hit' rate of 304826 divided by 200984 or 151.7%.


The virus is outpacing our ability to test (or to report test results).

"people are not being tested before or after they die". See this article about inaccurate counts from BuzzFeed News which highlights why the availability of tests is important and appears to be affecting these counts.

A similar article from the Washington Post about covid-19 deaths not being counted.

From FiveThirtyEight, Coronavirus Case Counts Are Meaningless.


Get the data used here cdcdata.csv.


The CDC data is automatically checked for updates periodically. The CDC data here updated at 2020-04-05 15:30:03.235436.


COVID-19 links
One from Microsoft Bing here.
A time series for US cases from Worldometer (check other countries (like China) here as well).
Another list of Coronavirus web-sites.
And one from Google google.com/covid19.